Reset. Reconnect. Reignite. Audiology Australia 2023 Conference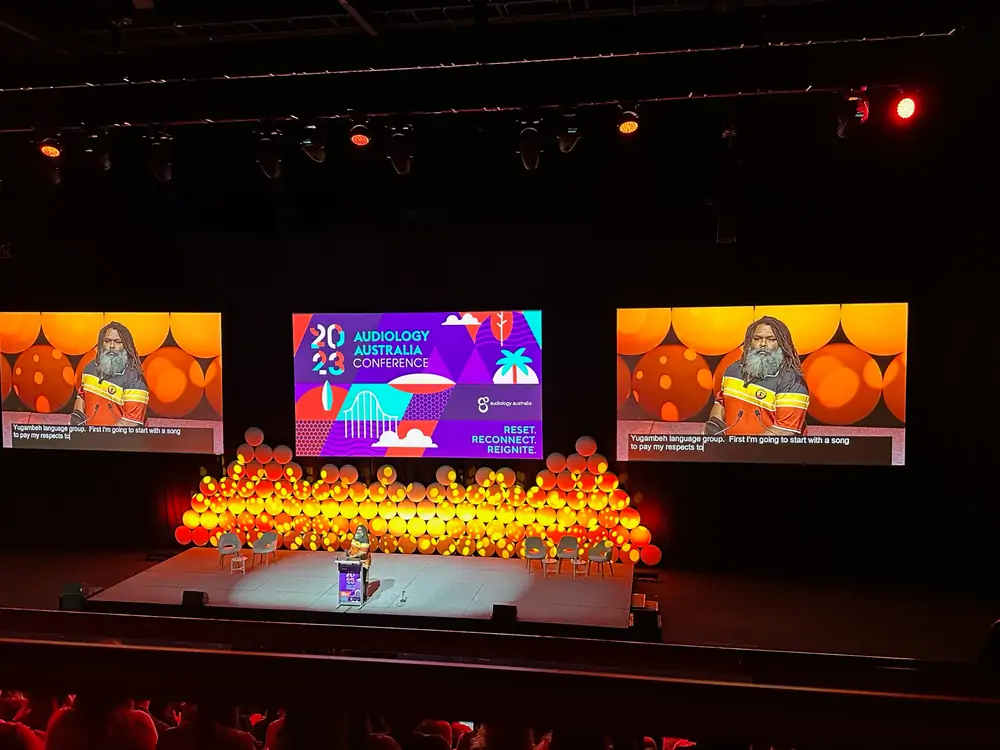 From 7th – 10th May 2023, Directors Kylie Dicieri & Damien Dicieri attended the Audiology Australia 2023 Conference on the Gold Coast. The theme for the Conference was Reset Reconnect Reignite, where Audiologists & Audiometrists from all over Australia (and some from around the world) gathered to discuss all things Audiology in 2023.
Being located on the stunning Gold Coast, it was the perfect location to Reset, in the gorgeous beach and coastal surrounds. Travelling from Adelaide, where the weather was beginning to get very cool, the warmth of South East QLD was a pleasant reset change.
Reconnection is such a wonderful experience with colleague and friends in the Audiology industry. Given it had been 3 longs years since the last Audiology Australia Conference, due to the Covid pandemic, this reconnection opportunity was a long time coming.
What a way to Reignite our passion for Audiology through the learning and excitement of a National Conference. Hearing from National & International speakers, strolling through and connecting with the plethora of Exhibitors in the Trade Exhibition, and socially connecting with friends and colleagues to chat about the industry and their lives over the last 3 years since we last connected face to face.
Kylie & Damien thoroughly enjoyed strolling through the Trade Exhibition, connecting with suppliers, and discussing how they could work together to provide benefits to Hearing Aid Specialists SA and their clients. Kylie & Damien visited and consulted with the following Trade Exhibitors:-
AON (Provider Insurance)
Audeara (Assistive Listening Devices)
Audiology Australia (Practitioner Professional Body)
Bernafon (Hearing Aid Manufacturer)
Clean Ears (Wax Removal Spray)
Cochlear (Implant Manufacturer)
DeafMetal (Hearing Aid Cosmetic Jewellery)
Doc's Pro Plugs (Hearing Protection/Swimming Plugs Supplier)
GN Hearing (Hearing Aid Manufacturer)
Hearing Business Alliance (Business Representative Body)
Hearing Services Program (Government)
HICAPS (Health Insurance)
IAC Acoustics (Hearing Clinic Equipment)
Independent Audiologists Australia (Business Representative Body)
Interacoustics (Hearing Equipment Manufacturer)
MedEL (Implant Manufacturer)
Natus (Hearing Clinic Equipment Manufacturer)
Oticon (Hearing Aid Manufacturer)
Oticon Medical (Implant Manufacturer)
Pacific Ears (Hearing Protection Supplier)
Phonak (Hearing Aid Manufacturer)
Signia (Hearing Aid Manufacturer)
Sonic Equipment (Hearing Clinic Equipment Manufacturer)
Starkey (Hearing Aid Manufacturer)
Unitron (Hearing Aid Manufacturer)
Varta (Hearing Aid Battery Supplier)
Vorotek (Wax Removal Systems Supplier)
Widex (Hearing Aid Manufacturer)
Zone Medical (Hearing Clinic Equipment Supplier)
By consulting with each of these Exhibitors we feel that we are able to take back to our Hearing Aid Specialists SA team a significant amount of information and technology updates to further assist our clients with the very best options available for their hearing needs. As Hearing Aid Specialists SA is an independent business, Hearing Aid Specialists SA are able to offer clients a wide variety of different hearing aid options and hearing aid manufacturers so it was critical to speak with each and every one of these suppliers to ensure we are offering the very best to our Hearing Aid Specialists SA clients. There were several lecture presentations that were conducted by National Audiologists, International Audiologists and Researchers. There were two Speakers who were of particular interest, one being International Speaker Dr Cliff Olsen, Dr Cliff is an Audiologist and Social Media Influencer from the United States. Not only has he released up to 900 YouTube videos relating to Audiology he also runs his own private practice Audiology clinic. One interesting fact that was taken away from Dr Cliff's presentations was the need for Audiologists and Audiometrists to ensure they are continuously review research and research papers to ensure they are providing the very best possible service to their clients on new hearing aid findings. The other being Associate Professor Kelvin Kong, Ear Nose & Throat Specialist. Professor Kong currently practices in Newcastle, NSW. He brought awareness to the audience on the impact of hearing loss and ear health issues in children, particularly the indigenous population. One very interesting reference he made and video he showed was how surgically implanted maggots into a child's ear that has a severe ear infection. It was absolutely fascinating to see how the maggots were helping to clean the ear and assist with the healing process for this poor ear health condition for this child. Kylie and Damien thoroughly enjoyed the Audiology Australia National Conference 2023 and look forward to bringing our learnings back to our Hearing Aid Specialists SA team and clients.